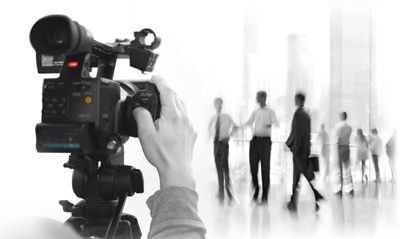 Corporate Film - Be Seen & Be Heard
With 90% of internet traffic set to be video based by next year, and YouTube logging over a trillion views in 2012, (The equivalent of 140 views per person) the age of video communications is here and now. An effective video now not only inspires, entertains, and informs your audience – it defines what you do and how people discover you. A website which contains video is 53 times more likely to appear on the first page of search engines so there has never been a better time to be seen and heard.
With this powerful communication tool at your disposal it is essential to deliver your message in the clearest and most engaging way possible. To achieve this, you will need a video production company that not only understands exactly what you want to accomplish, but how to translate that onto the screen for your audience to enjoy.
Corporate videos can bring your brand to life, promote your business or showcase a particular product or service. You can even use a corporate video to differentiate your services in a new and dramatic way. Our expertise in creative designs, conceptualizing ideas and branding, as well as creative filming means that your corporate video production will stand out from the crowd.
view Showreel →
goto TV Commercial →
goto Training/Demo Videos →
goto Documentaries →